MRC500 laser robotic cell
Soldering
Soldering platforms
MRC500 laser robotic cell
The laser MRC500 is the larger robotic cell that supports point to point laser soldering from above. The standardized platform is based on a flexible and modular concept that can be adapted to a range of processes from fully-automated in-line to stand-alone semi-automated processes.
The frame of the laser MRC500 is designed to ensure the safety of the operator during the laser soldering process. Furthermore, it also provides maximum accessibility to the working area. The laser robotic cell is only equipped with mta MLH45 laser head.
The main features of our laser MRC500 include:
Welded frame construction
3-axis Cartesian robot
500x500mm working area
Industrial PC controller with Embedded Windows® operating system
Intuitive menu-driven mta MotionEditor software
4 reasons to choose the mta MRC500 laser soldering cell
The laser MRC500 is both purposes-built and standardized. The advantage of being purpose-built is that there was no need to compromise functionality around pre-defined limitations. The advantage of standardizing the design is that it does not come with the heavy cost associated with one-off custom machines.
The X, Y, and Z axis use ball-screw actuators for precise actuation with a repeatability of 20 microns to assure the process is accurate and delivers consistent quality.

Properly designed heads are fairly heavy, so large DC stepper motors are used that provide the strength needed to actuate the head quickly.

The laser MRC500 can be combined with a solder paste jet dispenser.
Medical application
2 soldered points with MLH45 laser head
Point size of 0.3 mm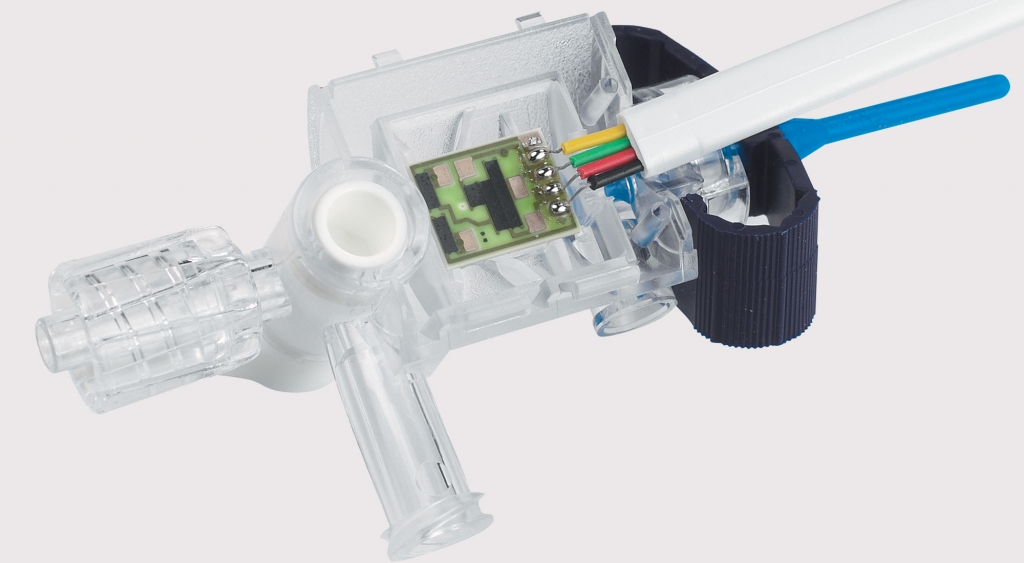 Wires on a ceramic substrate of a medical pressure sensor
4 soldered points with MLH45 laser head
Point size of  1 mm
Medical application
9 soldered points with MLH45 laser head
Point size of 0.8mm
Each machine is specifically tailored to the customer's application, but the standard MRC500 laser soldering robotic cell comes well-equipped:
3 axis cartesian robot
Complete mta MLH45 laser soldering head
Laser safety guarding
Monitoring camera
Air preparation system
Industrial PC
Full-size keyboard and screen
Signal tower
Options:
Specific fixture
Fume extraction system
Recentering camera
Vision quality control
Second screen
ESD protection kit
Part presence sensor
Part height measuring sensor
Working area  500 x 500 x 200 mm
Cartesian robot  3 axes
Shift of axes  point by point
Positioning repeatability  ±20 μm
Speed  X and Y: <300mm/s, Z <150mm/s
Electronic control  industrial PC
Operating system  WINDOWS
Programming  HMI Windows oriented
Interfaces  ethernet / USB port / serial port
Execution mode  standalone or slave with PLC via I/O interface
X, Y and Z axes actuation  Servomotors
Power supply  400/208V – 50/60Hz
Power consumption  1.5 kVA
Air pressure  max. 6 bar
Dimensions  1'405 x 1'492 x 2'532 mm
Weight  ~1'000 kg
Selective soldering solutions
PDF - mta_selective_soldering_05.2017.pdf /8.3 mb