Induction head
Soldering
Soldering heads
Induction head
mta's induction head is appropriate for robots soldering joints that have a high thermal mass and require more heat to solder. Other heating methods must allow time for the heat to migrate from outside-in; whereas, the induction system is able to create heat within the part to greatly reduce process time.
We can integrate the induction soldering head on any of our standard soldering platforms including: MRC500, TR300, OEM, and station.
The main features of our induction head include:
Quickly heats parts with high thermal mass
We can shape the coil to meet specific application requirements
Solid-state control
Non-contact soldering
The jam-free wire feeder mounted directly on the head provides tight process control
Suitable for brazing (hard alloy)
Non-conductive parts of the components to be soldered are not heated by the induction
Lead-free compatible
8 reasons to choose the mta induction soldering head
Inductive soldering quickly heats high-mass parts. Therefore, it is an excellent technology for heavy/multi-layer boards, large cable terminals, non-electronic parts, and many others.
Inductive fields heats without damaging the product. Inductive fields penetrate the material to create heat form inside the board. This uniform heating method does not burn the outer surface. By contrast, technologies that push heat from the outside-inward, can damage the outer surface before the joint reaches reflow temperature.
There are no stamped sheet metal or die-cast parts. We machined the robust head structure from solid material to provide a rigid platform for the iron and wire feeder.
The clamping system provides easy adjustment and precise alignment. Once tightened, the position will not change until loosened – there is no risk of accidental misalignment as a result of heavy use or while changing tips.
We mounted our precise jam-free wire feeder directly on the head – at the solder joint.  This provides tight process control of the wire feed. Solder wire does not kink or get jammed since there is no long feed tube. Once the correct amount is fed, the wire feeder pulls the wire out of the solder pool to prevent solder spatter.
We integrated the fume extraction nozzle into the head itself. Therefore, it is mounted directly above the solder joint to safely remove fumes.
In addition to the inductor, wire feeder, and fume extraction nozzle, the head can support several optional devices such as: cameras, flux dispensers, dual feeders, dual irons and the list goes on.
Very low consumables – no iron tips or cleaning sponges.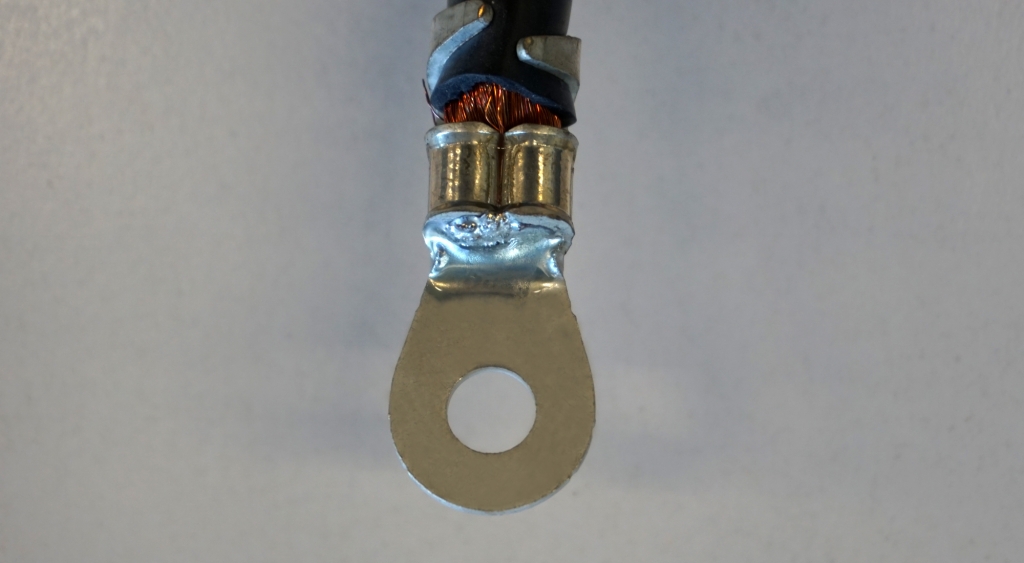 Automotive battery head cable
1 soldered point with induction head
Point size of 16 mm
Temperature sensor
2 soldered point with induction head
Point size of 1.5 mm
Hard soldering of a textile cutting tool
1 soldered point with induction head
Point size of 4 mm
The standard soldering induction head comes well-equipped:
Soldering head structure
Induction coil
Wire feeder
Solder wire
Fume extractor nozzle
Chiller
Induction generator and controller
Options within mta platforms:
Monitoring camera
Recentering camera
Vision quality control
Pyrometer
Fume extraction system
Part presence sensor
Part height measuring sensor
Induction head coil power  max. 32kVar or 45kVar
Induction head coil diameter  min. 4 mm and max. 12 mm
Induction head dimensions  123 x 95 x 62.5 mm
Induction head weight  ~2 kg
Generator dimensions  275 x 265 x 140 mm
Generator weight  ~10 kg
Generator power supply  230V/50-60Hz
Chiller pressure  min. 3.5 bar – supply: 1.5 – 2 l/min.
Controller dimensions  275 x 265 x 140 mm
Controller weight  ~5.7 kg
Selective soldering solutions
PDF - mta_selective_soldering_05.2017.pdf /8.3 mb
Available platforms
MRC500 soldering robotic cell

The mta MRC500 soldering platform for robotic soldering from above is a free-standing machine cell. Our design engineers purposes-built the MRC500 for soldering applications then standardized the design. We built our own platform so we would not need to compromise functionality based on the limitations of third-party equipment. Standardizing the design offers three primary advantages: it is well-proven, available faster and costs less than-off custom designs.

Although the design is standard, it is highly flexible. We designed the mechanical structure to work with a wide range of process equipment, material handling and guarding systems. In its basic configuration, the MRC500 is a free-standing, semi-automated machine. At the other extreme, we can outfit it with SMEMA conveyors, collaborative robots, rotary tables and many other systems. Likewise, our software engineers included flexible modules in our MotionEditor software to quickly integrate a wide range of standard and special options.

We can equip the MRC500 with any of our soldering heads: soldering iron, induction, or microflame. In the case of the MLH45 laser head, we equip the MRC500 specific to laser soldering with laser-safe guarding.

As properly designed heads are fairly heavy, the MRC500 is equipped with large DC stepper motors to provide sufficient strength to actuate the head quickly. The X, Y, and Z axis use robust ball-screw actuators for precise actuation. Repeatability of 20 microns assures the solder process is accurate and delivers consistent quality.

The main features of our MRC500 platform include: welded frame construction, 3-axis Cartesian robot with optional rotary axis at the head, 500x500mm working area, industrial PC controller with Embedded Windows® operating system and intuitive menu-driven mta MotionEditor software.

6 reasons to choose the mta MRC500 soldering platform

You need a larger work area (500x500mm).
You need the y-axis overhead (the y-axis is in the base of the TR300).
Your process is semi-automated, but you need a free-standing station.
The production is inline and requires conveyors.
Your process is offline, but you need another form of material handling (rotary table, collaborative robot, etc.).
The enclosure is large enough to support additional process such as automatic optical inspection.

Learn more

Read more